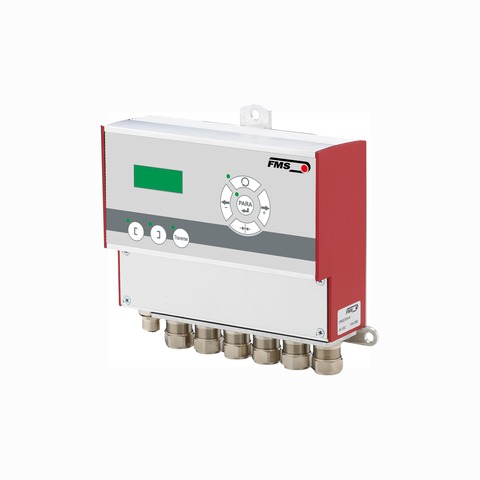 Digital microprocessor controlled
Plug & Play or utilize Ethernet connection
3 buttons and 5-key wind-rose operation and two-line 8-character LCD
The web guiding controller of the BKS309.M-series are an innovative extension of the successful BKS309-series. The integrated control of the motorized sensor adjustment BKS.TA allows remote adjustment of the lateral position of the material sensors in machines with limited space or where the web guide is difficult to access.
The web guiding controllers of the BKS309.M-series feature simple configuration and a wide range of possible applications. Three buttons and a five-key wind-rose control panel with a dual-line LCD provide simple operation. The controllers can be freely combined with FMS-webMASTER steering frames, FMS-winderGLIDE actuators and FMS-webDIRECTOR steering rollers, as well as with the entire program of FMS material sensors. This allows various controls as edge / line guiding as well as center guiding. The versatility of the BKS309.M-series allows installations in wide fields of the paper, plastic foil, metals, etc. industry such as printing, laminating, narrow web or web processing applications.
General technical details
| | |
| --- | --- |
| Power supply | 24 VDC (18 to 36 VDC) |
| Processor cycle time | 1 ms |
| Relay output | 2 pcs., max. 220 VDC, 2 A, 60 W; 250 VAC, 2 A, 62.5 VA |
| Control modes | Edge control |
| Set point setting | ±5 mm, setting in 0.1 mm steps |
Technical details
| Protection class | Housing | Additional functions | CAD data |
| --- | --- | --- | --- |
| IP 55 | wall mount | for motorized traverses BKS.TA, left and / or right | PDF DWG STP |
Easy to operate and provides flexible set-up
High performance at fastest speeds
Easy to setup and operate
Digital microprocessor controlled
Plug & Play or utilize Ethernet connection
3 buttons and 5-key wind-rose operation and two-line 8-character LCD
Textile, Converting, Paper, Coating, Non-ferous Metals, Laminating, Labels, Packaging, Fabrics, Food and beaverage, Hygiene products, Narrow Web, Digital printing, Offset printing, Plastic films, Grafic arts industry, Drying