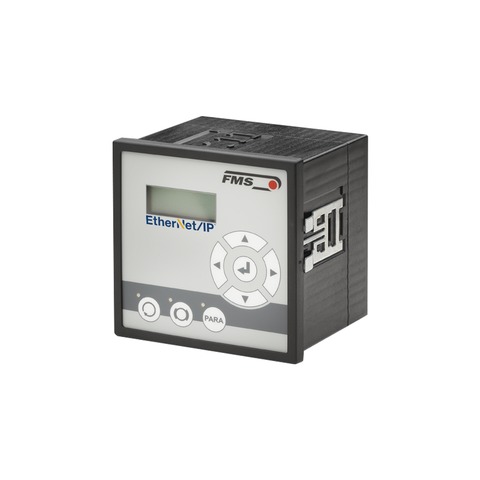 Integrated EtherNet/IP Field Bus
Fast data rate with cycle times down to 2 ms
Clearly arranged operating panel with two-line LCD display
3 housing /mounting types
The web guiding controller of the BKS309.EIP-series are an innovative extension of the successful BKS309-series. The integrated EtherNet/IP bus interface provides universal interconnectivity to a PLC or higher-level control systems.
The web guiding controllers of the BKS309.EIP-series feature simple configuration and a wide range of possible applications. Three buttons and a five-key wind-rose control panel with a dual-line LCD provide simple operation. The controllers can be freely combined with FMS-webMASTER steering frames, FMS-winderGLIDE actuators and FMS-webDIRECTOR steering rollers, as well as with the entire program of FMS material sensors. This allows various controls as edge / line guiding as well as center guiding. The versatility of the BKS309.EIP-series allows installations in wide fields of the paper, plastic foil, metals, etc. industry such as printing, laminating, narrow web or web processing applications.
General technical details
| | |
| --- | --- |
| Power supply | 24 VDC (18 to 36 VDC) |
| Processor cycle time | 1 ms |
| Relay output | 2 pcs., max. 220 VDC, 2 A, 60 W; 250 VAC, 2 A, 62.5 VA |
| Control modes | Edge control |
| Set point setting | ±5 mm, setting in 0.1 mm steps |
Provides interconnectivity to higher-level control systems
Ideal for applications in automated assembly and production lines
Easy to setup and operate
DIN Rail, Wall Mount (IP 65), and Panel Mount
Integrated EtherNet/IP Field Bus
Fast data rate with cycle times down to 2 ms
Clearly arranged operating panel with two-line LCD display
3 housing /mounting types
Converting, Textile, Paper, Non-ferous Metals, Fabrics, Drying, Laminating, Coating, Plastic films, Digital printing, Offset printing, Grafic arts industry, Hygiene products, Packaging, Labels, Narrow Web, Food and beaverage