RTM MP Plus – Compact, wireless signal transmission for rotating machinery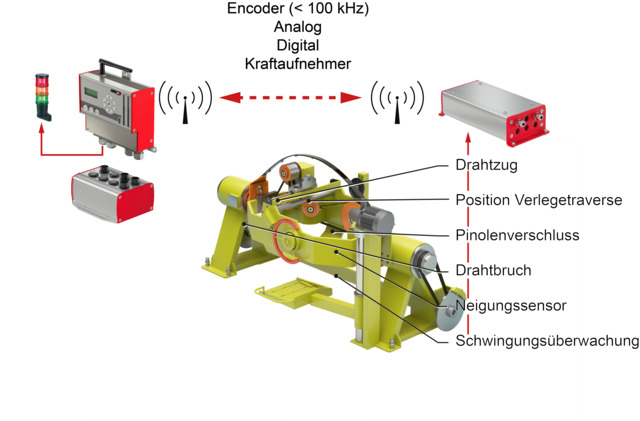 Certified radio transmission in the 2.44 GHz band, encoder signals up to 100 kHz
Typcial signals on retrofit of a buncher/twister: encoder, analogue, digital and force sensor signal
Plug-and-play with prefabricated cables and connectors
Small transmitting module for the rotating part of the machine, protect, internal antenna
The RTM MP Plus Telemetry System was developed for transmitting various signals in parallel from rotating machinery:
• 2 x Encoder
• 8 x Digital
• 1 x Analog
• 2 x Force sensor
The RTM MP Plus System is applied where signal transmission utilizing slip rings is no longer practical. The costs involved for an expansion or and upgrade of existing slip ring signal transmission can be substantial due to the complexity of the required components or modifications to the machine itself.
Many RTM MP Plus Systems are applied as a substitute for defective or aged slip-ring systems where the repairs are cost prohibitive or even impossible as spare parts are no longer available. Through the use of robust components for maintenance free operation and a simple system concept for easy installation, the RTM MP Plus System provides the telemetry solution of choice for the installed base of buncher and twister stranding machines.
Main components
| Picture | Name | Description | CAD data | Watchlist |
| --- | --- | --- | --- | --- |
| | RTM MP Plus EMGZ482.T.Plus | RTM MP Plus transmitting module with integrated dual-channem measuring amplifier | PDF DWG STP | |
| | RTM MP EMGZ482R.MP | Transmitting module for RTM X2.MP | PDF DWG STP | |
| | RTM MP EMGZ4443MP.R | Decoding module for RTM MP | PDF DWG STP | |
Reliable signal transmission - without slip-rings
Many applications
Easy to retrofit
Compact dimensions
Certified radio transmission in the 2.44 GHz band, encoder signals up to 100 kHz
Typcial signals on retrofit of a buncher/twister: encoder, analogue, digital and force sensor signal
Plug-and-play with prefabricated cables and connectors
Small transmitting module for the rotating part of the machine, protect, internal antenna
Wire and Cable, Yarns and Fibres, Non-ferous Metals, Steel, Electrical conductors, Fibre optics, Compound materials, Steel ropes