ATEX for Explosion-proof Environments
Are you looking for an intrinsically safe barrier? Should it be insensitive to electrical interference? Then the FMS ATEX module of the ExMGZ series is exactly the right product for you.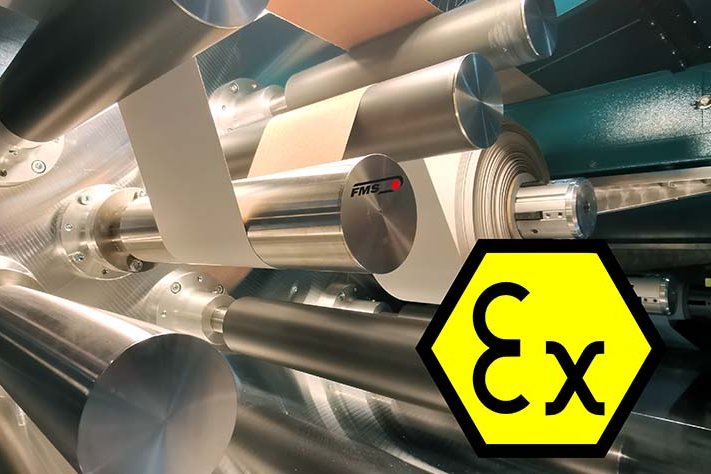 ATEX certified
High precision, full sensor excitation voltage (100 %)
Two independent, intrinsically safe sensor inputs
Insensitive to electrical interference
Approval II (2) DG [EEx ib] IIB / IIC
Internal compensation of the voltage drops across the Zener barriers
For 1 or 2 force sensors
Power supply galvanically isolated
Reliability
100% compatible with all FMS products
Maintenance-free operation
Lowest life cycle costs
The FMS ATEX module. Approval 2 certified.
The ExMGZ series is suitable for use with all FMS force sensors in explosive environments classified as Class II (2) GD [EEx ib] IIB/IIC. The installation is easy. The device is connected between measuring amplifier or controller and force sensor. It can be used for single or dual channel measuring points with all FMS measuring amplifiers and web tension controllers. They are mounted in the control cabinet on DIN rails. All connections are realized as pluggable screw terminals. The power supply is galvanically isolated.
Use in explosive environments possible
FMS offers solutions suitable for applications in the following environments:
Gas explosive atmospheres II (2) G [Ex ib Gb] IIC
Category 3G (EPL Gc) with housing II 3 (2) G Ex nA [ib Gb] IIC T4 Gc
Dust explosive atmospheres II (2) D [Ex ib Db] IIIC
FMS Force Sensors for explosive areas
All FMS force sensors are simple apparatus according DIN EN 60079. In combination with the associated, certified device ExMGZ100/200 they can be used for explosive areas. An additional marking of the force sensors (degree of protection, gas group, temperature class, etc.) cannot be applied according to IEC 60079-14, paragraph 16.4, Note 1 in these specific applications.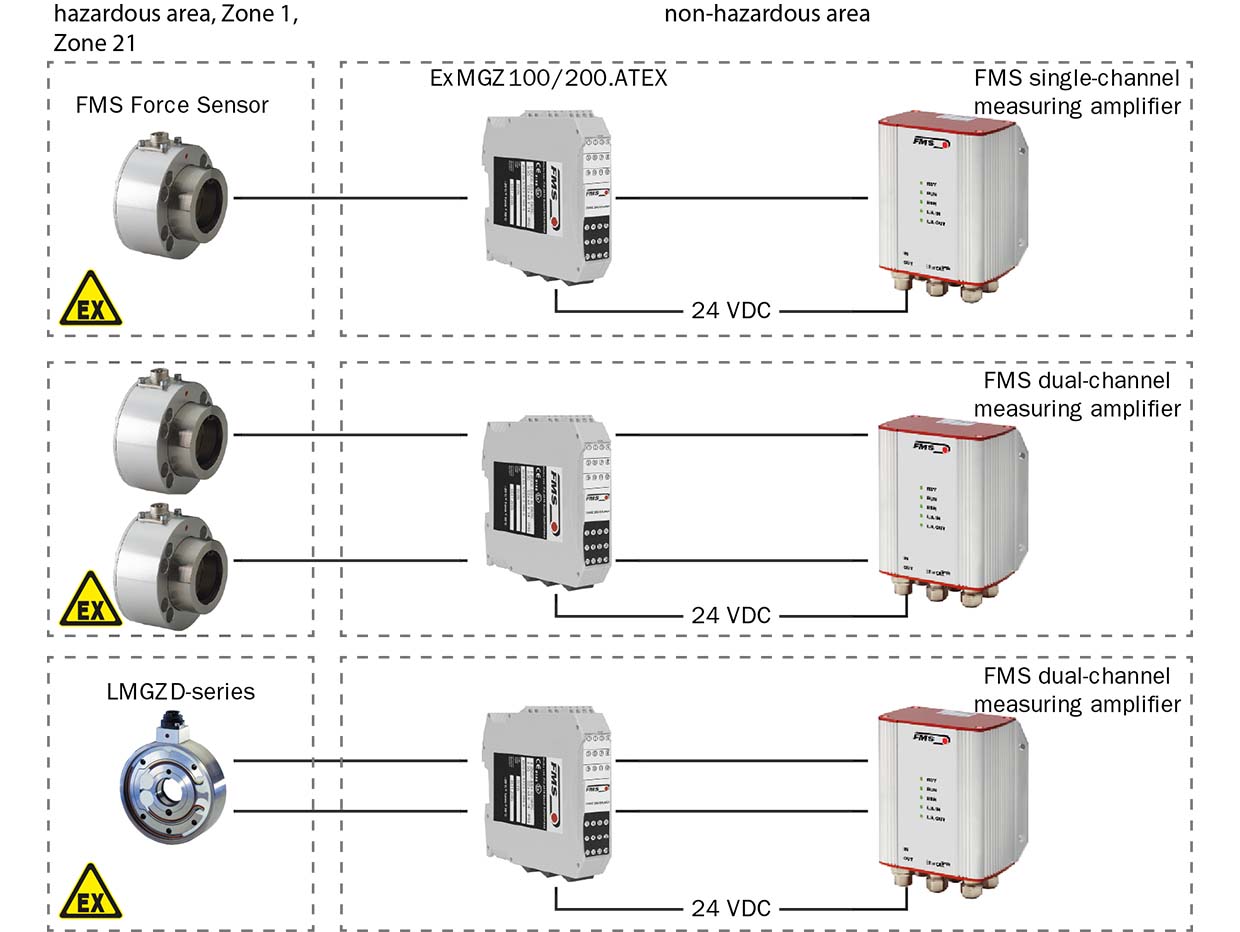 Function description
The module separates the circuit into an intrinsically safe area (force sensor) and a non-intrinsically safe area (amplifier or controller). Each line is provided with a Zener barrier. This limits the maximum power supplied. A controller circuit ensures that the voltage drop across the Zener barriers is compensated and thus the precise supply voltage is constantly applied to the force sensor.