Increased Machine Safety for Rotating Systems
Are you looking for wireless signal transmission from cradle to control station? Do you need to monitor for quick fault diagnosis and minimum downtime? In this case, the easy and extensible FMS-cradleGUARD is the right solution for you.
To the FMS-cradleGUARD technical information.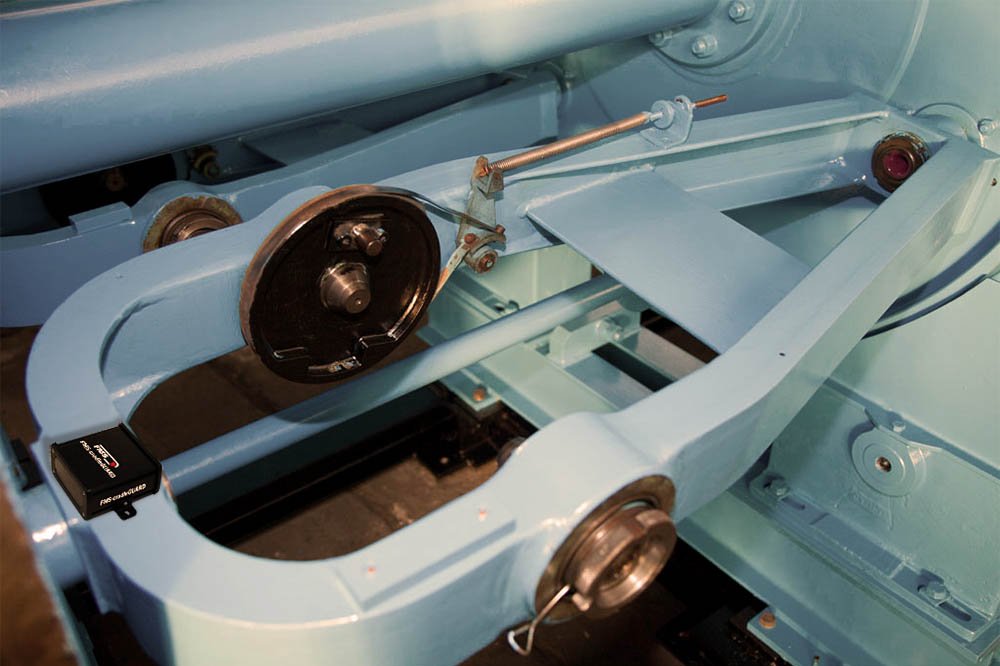 Increased machine safety
Quick fault diagnosis and reduced downtime
Easy installation and retrofit
Extensible up to 42 cradles
Reliable signal transmission, without slip rings with a battery life of several months
Clear display of the faulty cradle, saves time and money
Compact dimensions, robust aluminum housing
3 independent inputs for pintle lock status, cradle tilt switch
Reliability
Long service life
Maintenance-free operation (except batteries)
Lowest life cycle costs
For improved machine safety.
The use of slip rings for signal transmission, for example for pintle lock status monitoring, is maintenance-intensive and often provides only inaccurate information on the cause of the fault. Quick troubleshooting is therefore not possible, resulting in extended machine downtimes.
Quick fault analysis
The FMS-cradleGUARD transfers information reliably from the machine to the control station. The clear assignment of a fault to a cradle with plain text display allows the operator to quickly rectify the fault. Shorter downtimes increase productivity while increasing machine safety.
The FMS-cradleGUARD consists of two system components. A transmitter module (FMS-cradleGUARD.T) per cradle contains terminal blocks for up to 4 switches and the radio module. The radio frequencies can be clearly separated to ensure operational safety. The receiver module (FMS-cradleGUARD.R) outside of the machine receives the signals of the individual transmitter modules and indicates their status in plain text on the display. The integrated relay outputs can be connected directly to the PLC or a warning indicator. You can conveniently configure the system, such as name assignment and assignment of the transmitter modules, via a web browser using a peer-to-peer network. To do this, simply connect the FMS-cradleGUARD receiver module to a computer (PC or laptop) via an Ethernet cable.