Segmented tension roller FMS-segFORCE
You want to measure the tension of individual, parallel web sections in your slitter / rewinder or see the tension profile across the entire width of your web? Then the FMS-segFORCE measuring roller is the right solution for you.
Perfectly lined-up segments for measuring the tension profile or by suitable selection of segment widths and distances for tension monitoring of individual web sections. The FMS-segFORCE measuring roller is unsurpassed in its flexibility.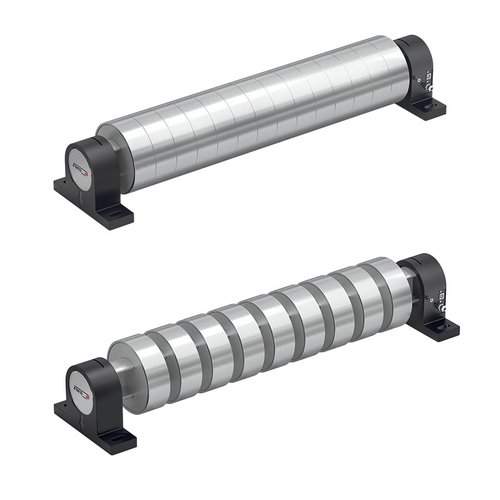 Monitoring of smallest tension deviations from segment to segment
Customized configuration
Easy retrofit and installation
Full system integration
High sensitivity, wide measuring range
Full flexibility in terms of quantity, width and position of the segments, various nominal force, full range of roll surface options
Flexible installation options, individual overall length, simple exchange of standard idler roll, identical web path
Standard ethernet interface for data processing an display via PLC
Highest precision above market standard
High reliability as well as long service life
Wide range of design solutions
Customized designs available
Application in a slitter / rewinder. Do you know the winding tension of all of your single rolls?
The FMS-segFORCE measuring roller now offers producers and machine builders in the converting industry the possibility to precisely measure the web tension of individual slit webs. Especially with very thin and stretchable materials and in compact machines, this places the highest demands on the technology.
Scheme of two measuring rollers in a slitter / rewinder. The offset of the individual segments from one measuring roll to the other is clearly visible. Minimal deviations in tension between the individual web sections quickly become visible.
Tension monitoring of each individual web section
Highest flexibility in terms of number of segments, widths and position
Quick detection of faulty winding or differential friction shafts
Clear display of different tension values of the individual webs
Tension monitoring of up to 40 individual web sections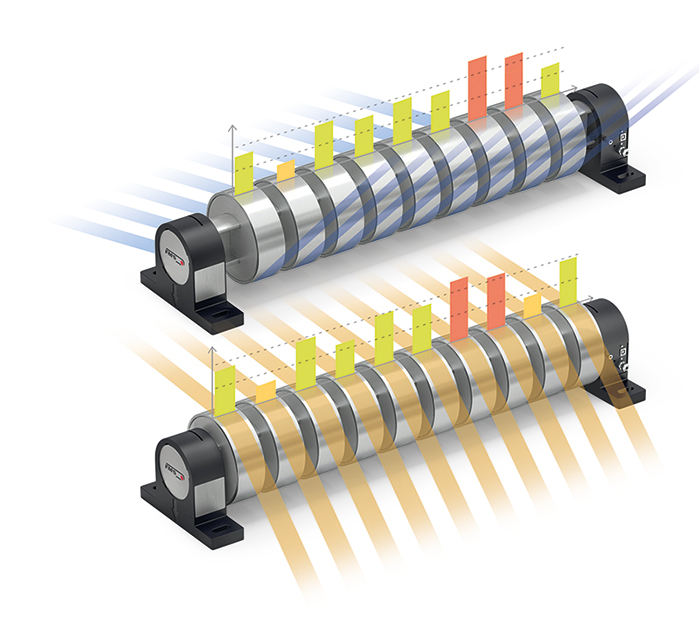 Coating. Up to 40 measuring points along one roller
With up to 40 measuring points across the web width, the FMS-segFORCE measuring roller provides a very high resolution of tension values. These are the best prerequisites for processing very sensitive materials or processes with higher requirements (process data acquisition, digital roll protocol, Industry 4.0).
The readings of the individual segments are displayed in a so-called tension profile. This allows qualified statements on process or material quality to be made at a glance. Process- or material-related faults and malfunctions can be easily identified over time. This information can help to better understand the process and optimize the entire operation accordingly.
Up to 40 measuring points along one roller
Highest sensitivity
Tension profile for best understanding of the process
Fast detection and elimination of process or material related faults and malfunctions
Fast quality assessment of the delivered parent rolls